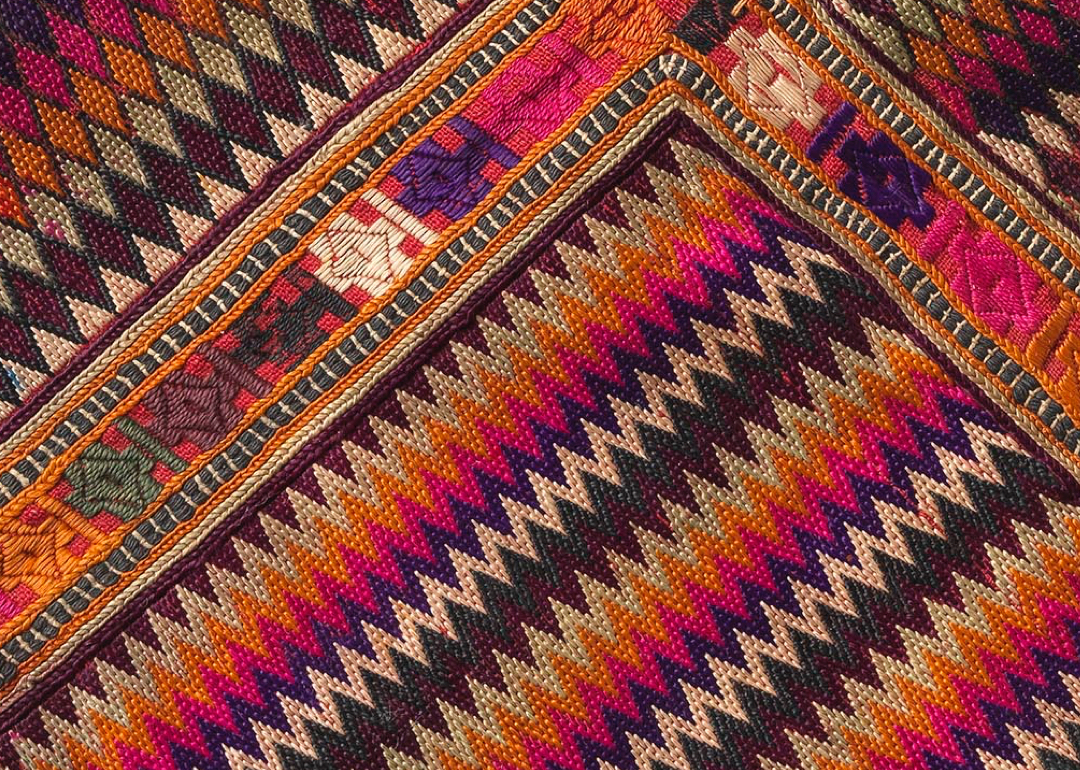 Join experienced textile designer and educator Karthika Audinet online for a six-week introduction to textile design.
Through lectures and hands-on workshops, students will learn about the history of textile design and techniques used around the world, including embroidery, resist dyeing, printing and painting. Students will review examples from world-class textile collections, including the Cotsen Textile Traces Study Collection, to develop a vocabulary for interpreting, contextualizing and taking inspiration from the world's textiles. Students will also have a chance to develop their own skills using yarns, fabrics, pencil and paper, and simple software such as Canva and PowerPoint.
This course is open to all levels, especially beginners. Space is limited, so we encourage you to sign up early.
Class Schedule
Week 1: Introduction. See astonishing examples of early textile design. Begin guided research from world-class museum collections, including the Cotsen Textile Traces Study Collection.
Week 2: Acquire unique perspectives on major textile traditions from around the globe. Develop a mood board and study methods to analyze color.
Week 3: From Chanel in France to kente cloth in Ghana, explore stripes and their significance in various cultures. Sharpen your knowledge of basic woven structures through examples from Iron-age Halstatt and Pre-Columbian Peru. Simple hands-on activities will further your understanding of weaving structures.
Week 4: After a brief overview of natural dyes, learn about resist patterning with a focus on clamp resists. Join or watch an online workshop to create your own resist-dyed scarf.
Week 5: See historical, traditional and haute-couture embroidery in new ways and begin to design your own textile patterns. Record patterns and textures around you.
Week 6: Develop an understanding of motifs, patterns and repeats while observing patterns that either fit neatly into Western theory or break out of the box. Learn a simple technique to set your patterns to repeat.
About Karthika Audinet
Karthika Audinet is a textile designer with 25 years of international experience and a background in designing luxury furnishings. Audinet was trained in textile design at the National Institute of Design in India, and received a second master's degree at the Ecole Nationale Supérieure de Création Industrielle in France. She was principal designer for the textile department of Good Earth India, and now operates Designers and Artisans, a consultancy and fair-trade company that champions hand weaving and crafting. In addition to her work as a designer, Audinet teaches courses in weaving, interior design and textile history, and publishes original research.
How to Participate
This program will take place on Zoom on Thursday evenings, October 13 through November 17.
To participate, simply sign up here by October 1, and then join the course online each week using the Zoom link provided. Once you register, we will email you the link and instructions for joining the class. You will also receive a materials list and additional details about the course. Fee: $350/members, $400/public (plus materials). For questions, please contact [email protected].